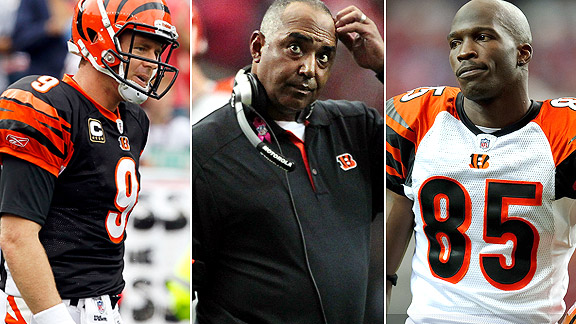 "I see a future here. For everybody involved, I want this thing. I haven't got done what I came here to do, and I failed them. But we're still doing it, and we're going to keep on doing it and just keep working at it. This has not been the season we all wanted, but it is where we are right now. I think we continue, my guys coach very hard, and that's not going to change." said Lewis.
Its kind of like dealing with someone who is fat person, they don't want to admit they have a eating problem, but everyone else knows they have a problem. Same thing with Marvin, everyone else knows things need to change, but Marvin can't see that. Sometimes an outsider has a better perspective of whats going on, than a person in the middle of the storm.
Let me say this, after living through the 90's, I am happy the Bengals won the division twice in a decade. And I have to give credit to Marvin for achieving those heights.
On some level the the lack of consistent success is Marvin's fault, but on the other hand its the fault of the man sitting at the top of the pyramid.
I'm just afraid if the Bengals do let Marvin go, we might encounter another long drought before we are relevant again. I don't have any faith in Mike Brown being able to hire a guy that can bring in any type of success. I know lot of fans out there want the next coach to be Zimmer, but let me remind everyone of what happened last time when we got rid of a coach and replaced him with a defensive coordinator (Dick LeBeau).
I think what this teams is some fresh faces on the coaching staff. Starting with a new offensive coordinator, new defensive line coach, and a new offensive line coach.
Secondly I think this teams need to rebuild, its time to let some players go. Chad, Carson, Geather, Peko,
Dhani Jones, Reggie Kelly, Jerome Simpson, Quan Cosby, Roy Williams, Tank Johnson, Nate Livings,

Dennis Roland, Bobbie Williams.
I'll just say this, I wish the NFL was not a revenue sharing league, because Mike Brown is content with collecting his money no matter what goes on.
Follow @cilii_blog